Race Kingdom's $ATOZ token outperforms leading Web3 gaming tokens
September 15, New York, NY: Race Kingdom's native token $ATOZ got listed on 3 new exchanges this week – MEXC, DigiFinex, and Bitrue. Since its launch on 15 July this year, $ATOZ has far outperformed other leading Web3 gaming tokens and has positioned itself as a bull of the bear market. $ATOZ also ranked as a top gainer on CoinMarketCap and CoinGecko as of September 15, 2022.
Race Kingdom is an upcoming multilingual metaverse-based game based on racing rare NFTs such as camels, horses, snails, etc. The play-to-earn model of this much anticipated game offers over a dozen ways to monetize the gaming experience, including racing, breeding, renting and selling NFT creatures, selling ad spaces on arenas, sweepstakes, reward and referral programs and more.
According to the table below, $ATOZ is one of the strongest tokens in the GameFi space. As an in-game currency with out-of-game value $ATOZ had shown a peak growth of 1005%.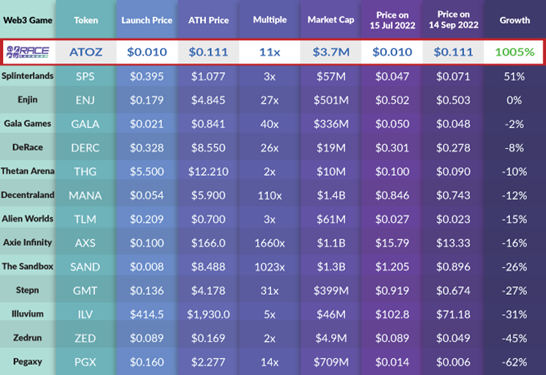 Data source: CoinMarketCap
"Within two months since launch, $ATOZ has exceeded our early investors' expectations tremendously. Having such a strong performance even in the "crypto winter" proves that $ATOZ is able to retain its top gainer rank with respect to the market situation. GameFi accounted for a record 60% of all blockchain activity in July 2022 and is expected to be worth $126 billion by 2025. Being the highest performer in that sector, we await further growth of $ATOZ as we launch NFTs and the alpha version of our game later this year. We are grateful to our community for its support and tremendous interest."- shared Omar Gull, CEO at Race Kingdom.
Per early investors' and community members' request, Race Kingdom rolled out a longer-term staking program for $ATOZ recently after the short-term staking options were sold out in less than ten days. $ATOZ is currently listed on six exchanges – MEXC, LBank, BitMart, Bitrue, DigiFinex, and DIFX – this list is expected to keep growing.

Source: https://www.newsbtc.com/press-releases/race-kingdoms-atoz-token-outperforms-leading-web3-gaming-tokens/